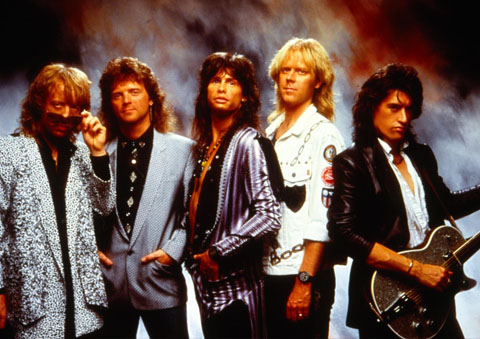 May 5, 2012
by: Editors Team
note: no comments
Tour Kicks-Off June 16 in Minneapolis, MN
Tickets on Sale March 30 & 31
LOS ANGELES (March 26, 2012) – Aerosmith, America's greatest rock and roll band, will start your summer sizzling and have you dancing around the fires of rock n' roll again. After blowing away audiences in South America and Japan, the Bad Boys from Boston are back to rock America's soul, with The Global Warming Tour playing 18 markets beginning on June 16 in Minneapolis, MN.
"The old Aerosmith is back with a new vengeance and we will kick your ass and make out with yur mothers," says Steven Tyler.
Joe Perry adds, "Can't wait to bring this band back home. It feels like we've been away too long."
Live Nation is the national tour promoter for Aerosmith's North American tour.  This summer's hottest ticket will go on sale March 30 and 31 at Ticketmaster.com and LiveNation.com.  The first round of tour dates are below with additional dates for a second leg to be announced shortly.   Beginning on Thursday, March 29, fans that visit www.livenation.com/aerosmith and RSVP to the presale will have early access to tickets.
The band celebrated their fortieth anniversary in 2010 and shows no signs of slowing down anytime soon. This quintessential live act truly defined rock and roll as we know it, bringing their heart-pounding sound and millions of fans to their feet over the past four decades.  Never succumbing to the trends and fads in music, Aerosmith blazes their own path and remains as ground-breaking as they were when they first formed in 1970.
Bassist Tom Hamilton says, "After touring Japan and South America last year we're psyched about bringing it all back for the hometown fans.  We're going to break out the classics, the hits and maybe even some of the new ones we've been banging out in the studio.  Can't wait to get to Minneapolis!"
Aerosmith are a living piece of American music history, having sold over 150 million albums worldwide and been inducted into the Rock and Roll Hall of Fame.  They are the recipients of countless awards including four GRAMMYs, eight American Music Awards, six Billboard Awards and 12 MTV Video Music Awards among many other honors.  Proving that they can cross genre-boundaries with ease, these rock legends have even taken home a Soul Train Award for Best Rap Single for their remix of Run DMC's "Walk This Way."  With scores of multi-platinum albums, Aerosmith continues to inspire generations to get their wings, get a grip and just push play.  It is no wonder why they are one of the most beloved bands of all time.
American rock band and musical institution Cheap Trick will open the announced shows.
For VIP ticket packages, including opportunities to meet band members, backstage tours, great tickets and more, visit www.Aeroforceone.com
AEROSMITH
The Global Warming Tour
North American Dates
| | | | | |
| --- | --- | --- | --- | --- |
| Date | City, State | Venue | Presale | On Sale |
| June 16 | Minneapolis, MN | Target Center | Tue. 3/27 | Sat. 3/31 |
| June 19 | Cleveland, OH | Quicken Loans Arena | Tue. 3/27 | Sat. 3/31 |
| June 22 | Chicago, IL | United Center | Tue. 3/27 | Sat. 3/31 |
| June 27 | Toronto, ON | Air Canada Centre | Tue. 3/27 | Sat. 3/31 |
| July 1 | Uniondale, NY | Nassau Coliseum | Tue. 3/27 | Sat. 3/31 |
| July 3 | Bristow, VA | Jiffy Lube Live | Tue. 3/27 | Sat. 3/31 |
| July 5 | Detroit, MI | The Palace of Auburn Hills | Tue. 3/27 | Sat. 3/31 |
| July 7 | Milwaukee, WI | Marcus Amphitheater, Summerfest | Tue. 3/27 | Sat. 3/31 |
| July 17 | Boston, MA | TD Garden | Tue. 3/27 | Sat. 3/31 |
| July 21 | Philadelphia, PA | Wells Fargo Center | Tue. 3/27 | Fri. 3/30 |
| July 24 | East Rutherford, NJ | IZOD Center | Tue. 3/27 | Sat. 3/31 |
| July 26 | Atlanta, GA | Philips Arena | Tue. 3/27 | Sat. 3/31 |
| July 28 | Dallas, TX | American Airlines Center | Tue. 3/27 | Sat. 3/31 |
| July 30 | Houston, TX | Toyota Center | Tue. 3/27 | Sat. 3/31 |
| August 1 | Denver, CO | Pepsi Center | Tue. 3/27 | Sat. 3/31 |
| August 4 | Oakland, CA | Oracle Arena | Tue. 3/27 | Sat. 3/31 |
| August 6 | Los Angeles, CA | Hollywood Bowl | Tue. 3/27 | Sat. 3/31 |
| August 8 | Tacoma, WA | Tacoma Dome | Tue. 3/27 | Sat. 3/31 |
Tweet